The Concept Of Printable Embroidery Designs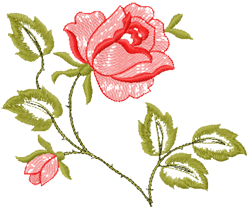 The art of embroidery started with incorporating the stitches into the fabric of choice via the means of hands and fingers. Here many requirements were present first of all your eyesight needs to be good and well in order. Secondly an excellent co-ordination in terms of your mind and fingers should be present because you have to convert your imagination into reality. After that full concentration is required as any one mistake can affect the beauty of the entire design. But no need to worry this is to be done years back when you don't have the embroidery machines to you aid. These days you can utilize the latest technology in order get perfect designs and that to within a very short period. Here in this section you will get knowledge about the The concept of printable embroidery designs.
Let's start by defining that what does this term printable embroidery refers to. By this term you mean the incorporation of embroidery by the means of the embroidery designs which are printable. To move on with this procedure the custom embroidery patches can also be made into usable if you are planning to work for an extended period of time. The biggest advantage is that the machine which is used for this purpose known as the Embroidery pattern machine is capable of completing the assigned task efficiently in a smaller time period. In addition there are very few chances left for errors.
All this makes The concept of printable embroidery designs a very convenient and time saving aid for the business owners. Many times you come across cases when you are successful in getting the design of your choice, but don't get much luck in terms of the application of these designs in the textile. No need to worry in this regard if you have embroidery designs which are printable.
Below you will find some useful guidelines in relation the printable designs
First you need to scan an image and open it in a computer to get it on your desired fabric. Efficiently scan the required image so that it can be printed as it is.
You need to check the selected image very carefully. If you find any need of alteration then carefully make the changes.
While editing take care that you are not damaging the real concept of printable embroidery designs. They should be saved in a proper place so that in case of need you can access them easily.