Hat Embroidery Machine the Great Unit Who Beautify Caps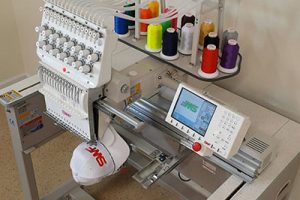 A hat embroidery machine is something which is specially designed to do the finest embroidering on hats and caps. These machines are the commercial and professional units that provide the flawless results to satisfy the needs of the customers. There are many reputable companies that are providing us with the best hat embroidery machines ever! Though, the industry leaders are Janome, Brother, and Singer. Their machines are really easy to switch out threads in simple words they are really easy and fun to use. Therefore, the professional hat embroidery machines have about 10 above needles. Also to mention that the best embroidery machines show you the edge corners of the design before starting so you are able to do the necessary adjustments.
Hat embroidery machines are most possibly found everywhere and commonly seen at the malls. Though, they require special equipment just as it's good to use 75/11 needle. The large needles are used as the hats are made up of hard material. When talking about the thread, the "Rayon" thread is usually used the most and it can hold up really well without breaking during the process of stitching. The thread comes in two weights that are, 30 and 40. Embroidery speed plays an important role as it is measured in stitches per minute. The higher the speed the faster you will be able to make more hats.  An embroidery field for caps should be about 270 degrees and come with at least 2 cap frames that is hoops. A hat embroidery machine is specially designed to embroider hats and caps. However, the type of the cap is a great factor. There are basically two types of caps that is structured and unstructured caps. A hat embroidery machine helps you to create the best designs that can provide you and your company recognition. Get it done in the most professional mean by us. We're providing our quality digitizing services with the fastest turnaround and with the cheapest price tag ever!