Free Embroidery Fonts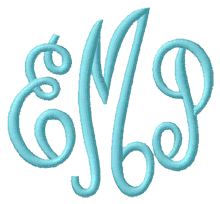 Are you passionate about design and you like to make things? Me too, I come from a friendly community where most people have fun designing and creating new items, they come together and help each other to discover designer textile craft patterns, learn some very helpful resources like sharing out new free embroidery fonts that one may have discovered elsewhere. I have never seen a community that is as cooperative like ours before, so into creative arts and innovation, one can actually think it is one family that shares a hobby. Everyone loves to come up with something new and display it for others to see.
In one of the few meetings I have been to, I was amazed by the kind of conversations that they hold did you know that embroidery has some health benefits? I did not know either. According to what their conversation, people embrace embroidery to relieve stress and keep themselves happy. Coming to think of it hand embroidery is a good thing as more people do it as a hobby and also to relax themselves and they can even enjoy their labor through the benefits they get. Research has shown that more and more professionals are taking to needle work as a way to relieve themselves from their stressful professions. Embroidery is a fun activity to spend some time on and people take it as a hobby. Medical practitioners support this activity arguing that it is an effective way of improving ones creativity and mindfulness. Embroidery has been termed as logic relaxation and some of its other benefits include; it helps in training the brain to develop creative solutions and be more creative. It helps to lower blood pressure as it helps one to reduce their stress levels. It increases ones confidence level. When one perfects in something and they know they are good at it, they become comfortable with themselves and can display it to anyone in the world to see.
The young professionals of today especially women try to do some of the things that the elderly women did in the past since it can obviously be seen that the older generation had less stress than this generation it is just a way of answering to some of the queries brought forth about why the stress levels in the current generation is more than that in the past. It is not just hand embroidery, individuals can do other things in this field like making the embroidery software, teaching others how to do it, making and distributing free embroidery fonts, all these ways are great ways that embroidery work can do the world good. You may agree with me that this form of activity is a way to keep people busy and even generate income, so it can actually be a source of employment to a lot of people.