Embroidery Hoops Made It Easy For You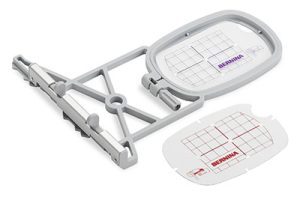 Embroidery hoops are usually the two hoops, one fits inside the other hoop to stretch and hold the fabric in place. Embroidery hoops are used while doing hand embroidery as well as machine embroidery. They are essential to use to a great extent, basically depending upon the type of embroidery that you are doing. Embroidery hoops are available in a wide range of sizes from 4 inches to 12 inches diameter. However, a small hoop is easier to handle than a large hoop as it tends to keep the fabric more than a larger embroidery hoop. Therefore, it's not necessary to choose a large hoop so that your whole design will fit inside it. It is possible to move the hoop once after one section of the design is completed. Embroidery hoops of good quality come with a brass adjustment screw which enables you to tight the fabric when necessary.
Wooden embroidery hoops are traditional but there are different kinds of it. That is, Q-snaps, Flexi hoops, spring hoops. Each of them has its own benefits and importance. However, it depends on your personal preference that which kind of embroidery hoop you like working with best. They are generally made of wood but they are also available in colorful plastics. Embroidery hoops are usually used for embroidery but they are also used by the sewers, quilters, painters, and sewers. Machine embroidery hoops help the fabric from bunching during machine embroidery but a stabilizer is used every time. Embroidery hoop typically come in three shapes that are, oval, round, and square. While an oval hoop is used for quilting projects. A square hoop is used while working with a sewing machine and around hoop is the most common type of hoop which comes in a variety of sizes. When machine embroidery is concerned then it's all about your hoop size and our creative designers can do any design with ease and professionalism as they are having decades of experience.