Commercial Embroidery Machines Makes Your Business Grow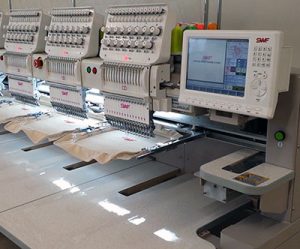 If you're thinking about starting your every own business in commercial embroidery or you need a good embroidery machine to do embroider your garments, you will be needing good quality commercial embroidery machines.
In early times, embroidery was done entirely by hand. The stitches were made by hand and the designs were drawn by hand. It indeed was beautiful but it required a lot of energy and even more concentration. Thanks to technology, which had made our lives easier than one could ever imagine.  The modern technologies have also made the art of embroidery easier by the invention of commercial embroidery machines. These machine work wonders by making the work of embroidery a whole lot easier. Where commercial embroidery machines make the embroidery easier and lovelier, it can also ruin your artwork if not chosen with care.
Therefore, there are certain things one must keep in his or her mind when selecting an embroidery machine. The first and foremost thing to keep in mind when buying a commercial embroidery machine is its memory capacity. Your commercial embroidery machines should have good memory capacity so that it can store all your designs, especially all of those which you often use. The next thing to remember is the rate of stitches per minute of that commercial embroidery machine. It should have high rate of stitches per minute so that your work could be completed in less amount of time. Another thing to remember when looking for a good commercial embroidery machine is that machine's editing capability. You should be able to rotate, flip, and zoom in or out your image with ease. Last but not the least thing one must not forget when looking for a good commercial embroidery machine is its convenient features such as the machine's auto thread cutter to make your work of embroidery as much smooth and fine as possible.
Commercial embroidery machines made our lives easier by their invention as we can now make the embroidery work done in a very less time! Though, DigitEMB's tremendous embroidery digitizing services are unbeatable! We're providing our clients with the highest quality services with the cheapest price tag ever.