Machine Fonts Embroidery
Embroidery is all about making articles of clothing personalized, to reflect the personality and uniqueness of the wearer, and nothing is more personal than putting some lettering on the garment. Most to all embroidery software come with a limited number of machine fonts, readily available to be utilized within the embroidery process; however the number of fonts available is always small and the styles, basic at best. For more creative and varied Machine Fonts Embroidery, one either needs to get them digitized from another source or learn to do so him/herself as specialized fonts or any other font style, other than provided by the machine's embroidery software, has to be treated like an image and digitized like any image would be.
Machine Fonts Embroidery files can be acquired from online sources which are readily available to be used. Free Machine Fonts Embroidery is also available in limited quantity and also are usually simplistic, 2-3 alphabets together in a playful manner. For more customized options like a brand name or logo or slogan, it has to be digitized as explained before. Most of the businesses have their own monograms, which are designs on their own with a specific font being used, so machine embroidery monogram fonts are created from another image source file to match the font and design of the monogram itself. In essence, it is just like any other digitized file and embroidered in the same way.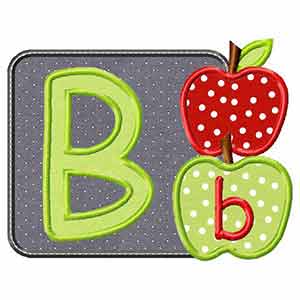 Some embroidery design businesses provides applique fonts for machine embroidery so the customer has the option of using multiple applique fonts within one file to be more creative in their design and approach towards further professionalization and creativity, if going through the entire process of digitization is too much for them, which it can be at times if the design is complex or the embroidery does not know how to do the process himself. Collating different embroidery appliques is easier than to digitize an entire font design from scratch.
With everything said, machine fonts are highly limited and the free options available are inadequate as well, hence for more customization words and monograms, digitizing becomes an essential part for the font to be embroidered onto a garment.
Machine font embroidery is all the rage right now so why look for already created font designs online when you can contact DigitEMB right away and customize a font embroidery design just for your unique self at a highly competitive price.