Embroidery Fonts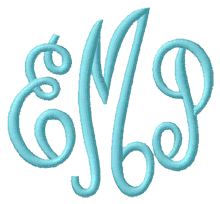 Embroiders who would like to create unique monograms using a variety of different embroidery fonts can browse for the available fonts designs and create their own designs very fast. I just came across a huge selection of the embroidered fonts and I was amazed by the huge selection that was available. among the thousands of fonts that I discovered, these are just a few that looked really good; fancy circle monogram font, machine embroidery font, curlz embroidery font, the ultimate font pack, Disney inspired alphabet font, Walt Disney style machine embroidery, Disney inspired alphabet style, curlz machine embroidery fonts, swirl monogram embroidery fonts, monogram 0203 machine font, number 1 birthday numbers and many more thousands of fonts.
Creativity in the embroidery designs brings out the impression of quality, and style. It produces a professional and sophisticated look. They last long and can incorporate full color designs at no cost. For the lovers of design it is a way of adding creativity and excellence to garments and other materials. Embroidery fonts can be used to bring out the eye-catching effects and striking images on the clothing. Embroidery has advantages and disadvantages but as you would expect, the advantages are more that the disadvantages. Some of the advantages include; the art illustrations, the styles and craft that embroidery offers to the products enhance their look and make them admirable. It is very easy to get embroidery designs for various products. The embroidery font designs can enhance the look of any garment product whether it is caps, hats, gloves, house hold garments or business clothing.
There are software that help to create the design patterns and they can be copied online and stitched onto ones desirable product, some of the embroidery software include, the monogram wizard plus, the monogram wizard plus extended features, brother BES lettering and font software, buzz word font and lettering software, the monogram sp embroidery software, Floriani embroidery software among many others. Some of the disadvantages of embroidery are; converting the digital designs into a format in which it is easily sewed is not easy. The feature is delicate and requires technical skills and can be time consuming at times. Detailed designs and patterns are hard to digitalize and at times can be expensive and not feasible for some garments. The delay in time that sewing of the designs takes hinders the speed which a product can be consumed. If the designs do not give the desirable output it cause anxiety and all the efforts and money that one puts into it goes to waste. The process requires one to be extra careful so as to achieve a good outcome, it may need one to sacrifice some time and money as well and put in the best resources so that the designs come out perfectly and neat.